Set up email in Android Gmail App
Android mail apps may look different across different devices, and these directions may not exactly match the options you see. Use these steps as a guide or consult the manufacturer's help for your particular device.
Step 1
Open the Gmail app.
Tap the menu icon in the upper left corner > Settings > Add account > Exchange and Office 365.
Step 2
Enter your full email address and tap Next.
Enter your password and tap Next.
Step 3
Follow any prompts you may get for security or device permissions, sync settings, and more.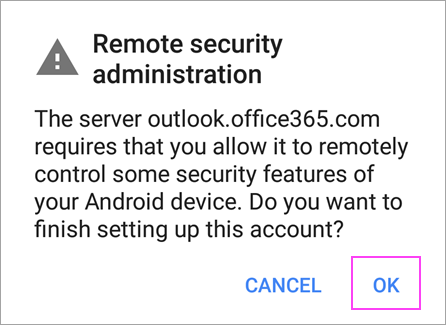 Step 4
Go to the inbox you just set up. If you see an email that says "Action Required to Sync Email," open it and tap Use another Mail app instead.
If you don't see this message and emails are syncing, skip this step.
Step 5
Pull down the Android notification bar by swiping down from the top of your screen.
If you see a notification that reads "Unable to sync calendar and contacts," tap it. Then tap Allow to give access and you're done!
Note: If you don't see a sync error, verify your calendar and contacts are syncing.
Request a Consultation
Protect your home with security that goes the extra mile to keep you aware and in control — from anywhere!