Ultra-small, powerful, and versatile, the ThinkCentre M90n Nano takes the desktop standard to a whole new level of convenience. Powered by the latest-generation Intel® processors and backed by SSD storage, the Nano makes everyday computing seem effortless. The 0.35L Nano is 65% smaller than a ThinkCentre Tiny and can easily fit in any office environment. Compatible with Tiny-in-One (TiO) and USB Type-C docks and monitors, the Nano can give your business productivity a welcome boost.
Aim higher by going smaller
Despite being smaller than an old VHS cassette, the ThinkCentre M90n delivers the same powerful performance as a regular desktop computer, yet uses 15% less energy.
Free up your workspace
With a wide choice of easy-to-install mounting and bracket accessories, you can house your ThinkCentre M90n almost anywhere—on a wall, under a desk, or on a shelf. It's also compatible with various docking solutions, enabling you to have even more ports and flexibility.
Engineered for today & tomorrow
The modular design of the ThinkCentre M90n lets you custom-build the perfect all-in-one PC. As your business needs change, so can your PC without having to replace the display, which can be more costly.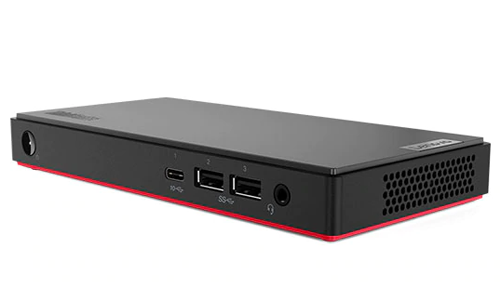 Built-in security
Each ThinkCentre M90n is fitted with the Trusted Platform Module (TPM) chipset, an international standard for safeguarding critical data such as passwords and encryption keys. In addition, the M90n is fitted with a Kensington lock slot, so you can secure your device when working in a public place.
Ultimate reliability
Windows 10 Pro devices provide you the powerful essentials you need for your business PCs – more security features, enhanced control, and robust and innovative devices – and help stretch your resources to get more done.
ThinkCentre M90n Nano SPECIFICATIONS
Operating System:
Windows 10 Pro 64
Processor:
Intel Core i5-8265U
ThinkCentre Tiny-in-One 24-inch Monitor
An enhanced experience
The ThinkCentre Tiny-in-One 24" is a lightweight, slim monitor that comfortably manages your workspace. Equipped with a LED panel, lift and tilt stand, and DisplayPort connectivity, this monitor delivers reliable performance at an affordable price. Best of all, it supports a Tiny PC.
Complement your purchase with these Lenovo accessories:
Lenovo Wireless Keyboard and Mouse Combo
The slim 2.5 zone wireless keyboard has a responsive key feeling and premium typing experience. The standard size wireless mouse compliments the keyboard in design and functionality. An advanced 2.4ghz wireless connection ensures consistent, reliable connectivity and the keyboard has low-profile, island-style keys, adjustable tilt legs and is spill-resistant, 1-year battery life.
Lenovo Pro Wired Stereo VoIP Headset
Today's ever-changing workplaces demand dynamic devices. The Lenovo Pro Wired Stereo VoIP Headset is just that. In 'work mode' you'll enjoy a Skype for Business certified noise-canceling microphone, crisp HD audio via USB, and in-line call control. In 'play mode' you'll have easy 3.5 mm plug-and-play connectivity to any device and robust sound for your favorite tunes.
Add a new dimension to your IT
Contact us for all your IT needs
Whether you are looking for general advice on upgrading your technology or optimizing your network, we are here to help.